Our Sustainable Approach and Defining Materiality
Download this section (2.8 MB)
Released in 2016, our Sustainability Policy establishes a clear set of principles focused on creating lasting benefits socially, economically and environmentally.
The policy reflects our maturity and is aligned with the sustainability focus and outcomes identified in Keeping WA Moving. The policy was developed in consultation with our portfolio partners and industry stakeholders. It is underpinned by six key aspects guided by our policy objective and are considered material:
sustainable transport
climate change
environmental footprint
behaviour
governance and performance
funding and financial matters.
Over the past year we have continued to engage with internal and external stakeholders to develop supporting actions, identify areas for employee development and report on key metrics.
This includes quarterly sustainability reports to the Corporate Executive, to measure performance ensuring our policy drives and guides our future direction. Further information on our approach to sustainability, including our policy, can be found on our website.
Defining Materiality
We ensure the relevance and validity of all areas of our business and stakeholder relations through a biennial desktop materiality review and internal stakeholder prioritisation workshops. Results are reported to the Corporate Executive and the review is conducted using a five-step process, informed by the Global Reporting Initiative (GRI) tests for materiality:

The analysis stage draws from our corporate and legislative commitments, key risks, corporate stakeholder engagement processes, media and Ministerial topics and our peers' reporting practices.
The Matrix shows the results of our five-step materiality process, indicating what is important to our community and stakeholders.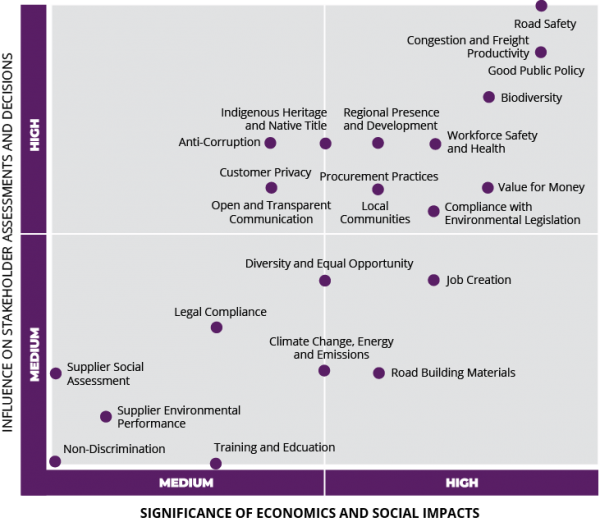 This report is prepared in accordance with the GRI principles of sustainability context, materiality, completeness and stakeholder inclusiveness, our value chain and the requirements specified in the Public Sector Commission's Annual Reporting Framework. A GRI Content Index is available.