Corporate Executive
Corporate Executive is our peak decision-making body. Its objective is to 'set clear strategic direction to deliver government priorities, meet our aspiration, purpose and achieve agreed performance goals'. It has a charter that identifies its role, outcomes and responsibilities.
A profile of each member of the Corporate Executive is included in the Leadership section of this report.
The Managing Director has a performance agreement with the Commissioner, while all members of Corporate Executive have performance agreements with the Managing Director.
Some of the key focus areas of Corporate Executive during the past year included:
Monitor delivery of critical projects and meet performance targets
Oversee the identification of and monitor treatment actions against risks classified as being very high and high
Embed and champion the engagement of Aboriginal people and businesses through our contracting activities
Review and refresh the Keeping WA Moving strategic direction
Monitor the deployment of activities through the Corporate Business Plan
Review and promote activities to mitigate the risk of cyber-crime
Oversee the deployment of the new maintenance contracting regime 
Main Roads has five executive committees capably and professionally supporting our Corporate Executive.
Management Review and Audit Committee
This committee ensures appropriate management practices and controls are in place, leading to efficient and effective business performance. It provides independent, objective assurance and advice and reports on a quarterly basis.
 

Role

Assists the Commissioner of Main Roads, the Managing Director and Corporate Executive to ensure that adequate management practices and controls are developed and maintained by all levels of management
Considers audits and reviews of the Management Review and Audit Branch
Ensures audits and reviews are in accordance with the Annual Audit Plan
Reviews and approves the Annual Audit Plan

Executive Members

Peter Woronzow (Chair)
Philip D'Souza
Doug Morgan

Some of the key focus areas of Corporate Executive during the past year included:

Comprehensive risk based and strategic Annual Audit Plan for 2018-2019 was approved
Twenty-six internal audits were monitored and approved
Quarterly audit progress reports were discussed and approved
Quarterly status reports of audit findings were monitored and approved
Budget Committee
This committee meets monthly with the objective of ensuring financial management oversight and best use of funds to achieve our strategic outcomes.
Some of the key focus areas of the committee during the past year included:
 

Role

Peak decision-making body for:Financial and Budget Management, Investment Planning, Program Development and Delivery

Accountability for: 

Investment Planning
Program Development
Annual finance and budget performance

Executive Members:

Peter Woronzow (Chair)
Philip D'Souza
Doug Morgan
Leo Coci
Des Snook
John Erceg
Tony Earl
Alan Colegate
Neville Willey

Some of the key focus areas of Corporate Executive during the past year included:

Future Roads Project (Urban) – Administrative Road Classification Process and Criteria
Findings and recommendations in relation to the amended criteria for determining administration of roads (State or Local Government) within built up areas
Oversight of Major Project Contract Savings and the Management of Contract / Project Contingency to comply with Treasury Instructions (TI 813 Variances in Capital Expenditure)
Oversight and governance of the agency's financial outcomes and ensure the outcomes stay within the financial target as set in the agency's Resource Agreement
Oversight of the temporary personnel expenditures and the agency's salary expenditure limit
Governance and provision of direction for Future Asset Investment Program including: the Investment Planning Cycle; sound Business Case Strategy; successful negotiation strategy with our external funding providers, that is, Commonwealth Government; Royalties for Regions; and the Western Australia Police Force; Road Safety Commission
Identify risk and opportunities in the scope of investment planning, program development and project delivery
Corporate Safety, Health and Wellbeing Committee
This committee is part of the high-level governance arrangement reflecting the importance we place on the safety of our workforce; the committee is chaired by the Executive Director Human Resources. It also includes the Safety, Health and Wellbeing Manager and Manager Communities of Expertise along with safety representatives from each Directorate.
 

Role

Presides over safety, health and wellbeing issues from high-level strategy to reviews of individual incidents
Acts as a primary occupational safety and health governance channel and reports to Corporate Executive on full-time and contracted employees

Executive Members

Des Snook
John Erceg
Tony Earl
Alan Colegate
Neville Willey
Philip D'Souza
Doug Morgan
Leo Coci

Some of the key focus areas of Corporate Executive during the past year included:

Review Main Roads and Contractor serious incidents – ensure timely reporting of incidents
Endorsed Main Roads to gain ISO 45001:2018 accreditation
Advise senior management of WorkSafe improvement notifications and reporting of serious incidents
Endorse Critical Risk Project
Review 2018-19 action plan of the three-year strategy
Endorsed the Alcohol and Drugs Policy and Procedure
Endorsed the two-day Safety, Health and Wellbeing Forum
Review of corporate key performance indicators dashboard
Update senior management on wellbeing initiatives
Advise senior management of innovation and technology
More information on our health and safety activities is included in the Safety, Health and Wellbeing section.
Asset Management Committee
The objective of this committee is to guide the development, implementation and operation of our Asset Management System to meet the needs of our strategic direction.
 

Role

Implement a system that delivers cost effective, sustainable, systematic and coordinated management of our assets across the asset management lifecycle
Ensure that responsibility for asset management activities is assigned and we have appropriate skills
Ensure that the information flow of asset risks, criticality and value for financial planning and reporting is in place
Deliver the Strategic Asset Management Plan and Asset Management Plans
Seek integration with other corporate and portfolio processes and systems
Coordinate activities to respond to external drivers

Executive Members

John Erceg (Chair)
Doug Morgan
Des Snook
Philip D'Souza 

Some of the key focus areas of Corporate Executive during the past year included:

Undertook a maturity assessment of our asset management processes and systems to inform refinements required to the existing Road Map to achieve an Asset Management System aligned with requirements of ISO 55001
Continued review of each region's road maintenance Ten-Year Network Delivery Plan to ensure accuracy and consistency across the state
Continued development of our Pavement Asset Management Plan including an interim program
Obtained endorsement of our State-Wide Road Maintenance Management Plan
Completed first draft of all our Route Development and Management Plans including verification of geometry and 'fit for purpose' standards
Continued development of training initiatives and implementation of mentoring within the regions
Refined the generic deterioration model to reflect local conditions through the review of historical condition data
This committee is the peak decision-making body for strategic network development strategy and investment planning, and for overseeing development of the Ten-Year Investment Plan.
 

Role

Review and endorse the long-term Network Development Strategy and Plan (20 Year Horizon)
Establish the investment focus and link organisational strategic objectives with outcomes that address defined needs and problems
Review and endorse the Ten-Year Investment Plan
Review and endorse project priorities for the annual Investment Planning and Budget cycle
Approve the allocation of definition and development funding

Executive Members

Doug Morgan (Chair)
Philip D'Souza
Tony Earl
Leo Coci
Des Snook
John Erceg

Some of the key focus areas of Corporate Executive during the past year included:

Continued strategic oversight of high-priority projects, and reporting to the Minister for Transport, for consideration in the state budget process and for submission to Infrastructure Australia for consideration for inclusion in the Infrastructure Priority List
Endorsement of all major and complex project scopes as part of the new requirements associated with the Budget and Investment Planning Framework
Endorsement of the 2019–2020 Strategic Asset Plan
Risk Management
Risk is inherent in everything we do; risk management is a continuous function affecting all facets of our
lives and is something we act upon either consciously or subconsciously. From an organisational viewpoint, systematic management of risk is crucial at all levels whether it be from a strategic viewpoint or in our day-to- day operations.
Our risk management approach aligns with the context within which we operate, taking account of regulatory, financial, safety, political and economic compliance requirements; reputational exposures; community expectations; and other governance needs. We adopt AS/NZS 31000: 2009 Risk Management – Principles and Guidelines Standard as our approach for managing risk.
Portfolio-wide Risk Management Policy
We have continued to adopt the Portfolio-wide Risk Management Policy. This policy was developed in 2018 in collaboration with our portfolio partners and approved by the Corporate Executive and Transport Portfolio Governance Council. A single approach allows for consistency and tracking of high-level risk assessment and prioritisation across the three agencies.
Corporate Risk Management
Main Roads' corporate strategic risk assessment is embedded in the corporate business planning process. This enables resources to be spent on risk management as opposed to risk administration. Corporate strategic risk workshops for all Main Roads directorates and the Corporate Executive are run every year.
Project Risk Management
Project risk management at Main Roads is embedded in our project management tools, methodologies and the Enterprise Project Management system. Through risk management workshops at the commencement of projects and quality audits during projects, we ensure that the correct reviews and controls are in place. Any high project risks are escalated appropriately to the Corporate Executive on a monthly basis.
This diagram outlines the annual risk process.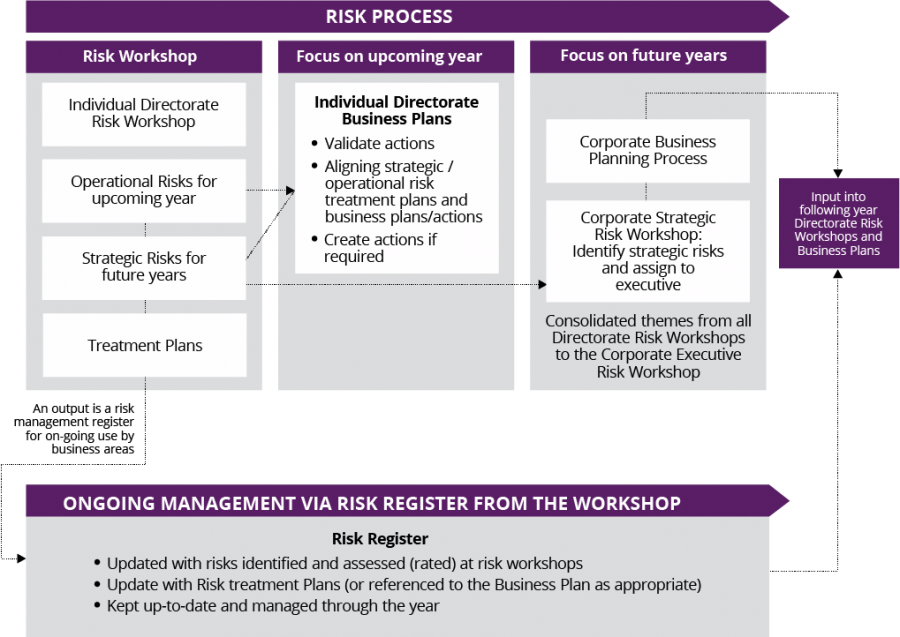 The following table shows our principal risks and opportunities identified last year, aligned against material issues.
Risk Theme
Material Issues

Key Resources Impacted

Strategic Alignment

Failure to embed new operating models to achieve strategic objectives

Good public policy
Procurement practices
Labour Management Relations 

 

Outcomes

Failure to coordinate and implement key infrastructure projects
Inability to improve congestion management outcomes
Inability to identify and adopt emerging technologies

Road safety
Congestion and freight productivity
Regional presence and development
Indigenous heritage and native title
Value for money
Customer Privacy
Climate Change
Energy and Emissions
Biodiversity

   

Capability

Inadequate strategic asset management approach
Inability to optimise funding opportunities
Failure to build and retain the skills and capabilities to meet objectives and changing needs
Failure to effectively embed a culture that enables adaptability to changes

Congestion and freight productivity
Regional presence and development
Value for money

 

Communication

Ineffective engagement with stakeholders

Local communities
Good public policy
 
A key component of our risk management framework is the facilitation of regular risk review workshops for corporate and key business areas.